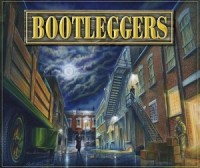 Bootleggers (Second Edition)
It is the time of the speakeasy and bath tub gin... It is the time of the BOOTLEGGERS!
In Bootleggers, players will find themselves slipping into a very thematic experience as they produce and sell moonshine in the early twentieth century. Using a vast array of plastic gangsters and trucks, players must attempt to use their muscle cards to take the best action cards and control the speakeasies. With treachery, backstabbing, alliances, and more, Bootleggers forces players to use their resources wisely. It's a good thing to produce a lot of moonshine at the distilleries; but too much will bring the police down on your business, and hired thugs might steal your trucks or worse! Bootleggers is a combination of good mechanics with a healthy dose of American theme for a fun, rewarding experience.
Add a Review for "Bootleggers (Second Edition)"