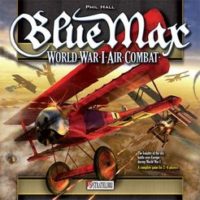 Blue Max: World War I Air Combat
Much like the gallant knights in jousting tournaments of yore, World War I fighter pilots engaged in a modern version of the medieval joust. Each aviator's survival depended greatly on both his skill and the quality of his aircraft. World War I aviators were brave men who fought heroically in a tragic war. Blue Max™ is a World War I aerial combat game for 2-6 players. Players divide into two teams and take on the role of pilots trying to shoot down the greatest number of enemy planes. The famous Philip Hall aerial combat game is back with new graphics and updated rules.
Add a Review for "Blue Max: World War I Air Combat"