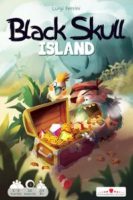 Black Skull Island
Become the most cunning pirate on the mysterious Black Skull Island ! Work yourself towards the magnificent loot while trying to rob the other players! Plan, scheme, bluff and risk — it will be worth it! Arrr!
Black Skull Island is a fast party game in which players become pirates who use cards — crew members and island citizens — to gather the most victory points from treasure and coin cards. One has to try and read other players plans and eventually outwit them to score high!
Add a Review for "Black Skull Island"