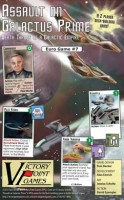 Assault on Galactus Prime
Death Throes of a Galactic Empire
"Now my fellow pilots and I wait for the word to attack and destroy the Ion Supercannon that protects this hated world from invasion by our ground troops. Its loss will turn Galactus Prime into lowly Dorrus once again. And though we are united, there is a friendly rivalry amongst us for the honor of being the one who brings the supercannon down. We all want to be that pilot – that hero."
This is it! The final battle to destroy the Evil Empire that all began many years ago as a small uprising. Now the rebellion is almost complete as the final assault begins on the Empire's Planetary Capital, Galactus Prime.
Brought to you by designer Tom Decker, Assault on Galactus Prime is a 2-player race game of deck-building and glorious die rolling. Can you recruit the pilots necessary and lead the Attack Run that will bring down the planet's greatest defense, the Empire's massive Ion Supercannon? For when it is destroyed, the ground assault can begin and the remaining defenses of Galactus Prime removed, and then the Evil Empire will be swept away into oblivion!
Add a Review for "Assault on Galactus Prime"