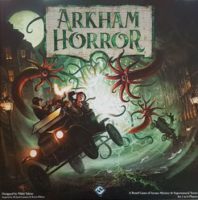 Arkham Horror (Third Edition)
The year is 1926, and it is the height of the Roaring Twenties. Flappers dance till dawn in smoke-filled speakeasies, drinking alcohol supplied by rum runners and the mob. It's a celebration to end all celebrations in the aftermath of the War to End All Wars.
Yet a dark shadow grows in the city of Arkham. Alien entities known as Ancient Ones lurk in the emptiness beyond space and time, writhing at the thresholds between worlds. Occult rituals must be stopped and alien creatures destroyed; before the Ancient Ones make our world their ruined dominion. Only a handful of investigators stand against the horrors threatening to tear this world apart. Will they prevail?
A Light in the Dark
Arkham Horror Third Edition sees players taking on the roles of investigators in the bizarre town of Arkham, Massachusetts. Unspeakable evil waits in the space between moments and just past the veil of our existence, and investigators must work together to unravel the mysteries of the Ancient Ones, risking their lives and sanity along the way. As the wall against the encroaching darkness, Arkham Horror Third Edition features twelve iconic investigators, each prepared, in their own way, to defend the world. Each investigator not only comes with a unique ability, but also a customizable starting kit, letting you choose how you want to outfit your investigator for the coming game. And ultimately, each investigator has their own history, and their own reasons for investigating the horrors of Arkham.
Add a Review for "Arkham Horror (Third Edition)"