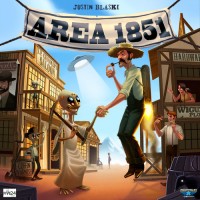 Area 1851

Area 51, a mysterious location, where strange technology is reportedly being developed and tinkered with.
Area 1851, pretty much the same, but without all the barbwire fences and a lot more fun.
Area 1851 is a wild west strategy game of top quality tinkering and curious contraptions. Not long ago Aliens from a distant world landed, keen on trading their interstellar gadgets for what we humans see as mundane junk. You are one of the area's most forward thinking Tinkerers and you're obsessed with incorporating the Aliens new technology with the items of the Settlers and Indian tribes. You'll need to send out your assistants to scavenge for parts, create some of the strangest devices you ever did see and earn yourself some reputation.
Add a Review for "Area 1851"