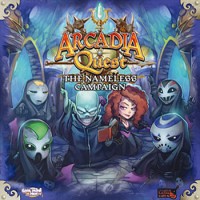 Arcadia Quest: The Nameless Campaign
Lord Fang fled and the victorious Guild threw their Heroes a party (and let the losers attend to drown their sorrows). The party went long. Perhaps, a bit too long. For, when they all awoke after a drink or ten, they'd been banished! The sun was gone once more! And monsters stood on the walls and jeered.
The Nameless' plan was simple: drug the enemy with strong spirits and bedazzle them with festive party favors. The Nameless's mighty horde descended from the mountains and piled the snoozing heroes beyond the gates. Eternal Night fell once again!
Now, in this darker time within the darkest time, the heroes must face this despicable Nameless Threat in yet another Arcadia Quest!
More monsters! More loot! More glory! (And, perhaps just a nice dinner party afterwards this time, hmm?)
Add a Review for "Arcadia Quest: The Nameless Campaign"