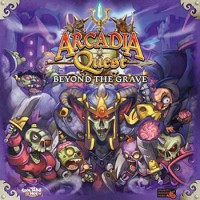 Arcadia Quest: Beyond the Grave
Nobody paid much attention when Dr. Spider was expelled from Arcadia University for excessive experiments into Necromancy. Even Lord Fang ignored him after taking over the city, and the bad Doctor pillaged the cemeteries and mausoleums of Arcadia for test subjects. Obsessed with his experiments, Dr. Spider retreated to his secret lab and worked long hours to tease the secret of immortality from the universe, and to prove, once and for all, that he should have fame, fortune, and (most importantly) tenure! The accidental revivification of the Dread King to his mortal form was merely a side effect! Nothing to worry about. … Well, nothing for Dr. Spider to worry about. That's what heroes are for, right?
Beyond the Grave is an expansion to Arcadia Quest that takes place after the overthrow of Lord Fang. Arcadians really can't catch a break as zombies, skeletons, ghosts, ghouls, mad scientists (and their creations) and an ancient evil take over the city! … AGAIN!
Add a Review for "Arcadia Quest: Beyond the Grave"