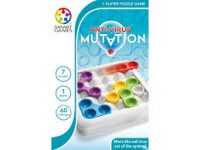 Anti-Virus Mutation
Move the red virus out of the system!
Can you get rid of the red virus? Anti-Virus Mutation challenges players to slide all of the colorful pieces around the board in order to clear a path to remove the red virus. A great travel game that features 60 challenges with a portable carrying case. Anti-Virus Mutation is the next generation of the original Anti-Virus, offering a whole new play experience.
Add a Review for "Anti-Virus Mutation"