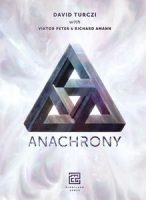 Anachrony
Command mighty Exosuits, traverse Time Rifts and lead your Path through a cataclysmic future in this epic board game for 1-4 players. Includes the base game, the Doomsday module and the Chronobot solo variant.
Add the Exosuit Commander Pack to your order for the ultimate gameplay experience with 30 supersized Exosuit miniatures, the Guardians of the Council and the Pioneers of New Earth expansions!
Language information: Apart from some flavor text the game is language independent and comes with printed English and German rules.
Add a Review for "Anachrony"