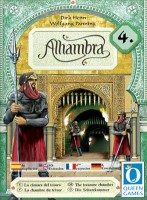 Alhambra: The Treasure Chamber
With the fourth expansion to Alhambra, together with the three other extensions, you now have a choice of 16 different modules.
The Treasure Chamber – contains treasures which, used in the right way, can gain you additional points.
The Master Builders Cards – make it easier to alter your Alhambra or replenish your reserves of money.
The Attackers – attack the palace. If it is unprotected, without walls, victory points are deducted.
The Bazaars – correctly positioned, they can gain you additional victory points. But unfortunatly only in the last scouring round.
Add a Review for "Alhambra: The Treasure Chamber"