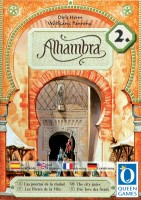 Alhambra: City Gates
This expansion contains four different modules, which can be combined individually or all together with the basic game.
Diamonds adds diamond cards to the game, which can be used to buy anything — but can't be combined with any other currency.
Characters has character cards which are auctioned off when revealed and which have a variety of powers.
Camps adds camps which are placed outside the city walls and which score points for the adjacent line of buildings inside the city.
City Gates contains city gates which can be placed in your city to allow a path to go through an internal wall to make certain illegal placements legal.
Add a Review for "Alhambra: City Gates"