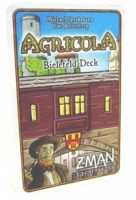 Agricola: Bielefeld Deck
Board gamers might think the "Bielefeld conspiracy" is actually true. Rarely will you find this "friendly city in the Teutoburg Forest" on game boards or playing cards.
But at last, Agricola sheds some truth on this real German city. Debunk the rumors with this exciting deck featuring new Occupations and Minor Improvements.
Add a Review for "Agricola: Bielefeld Deck"