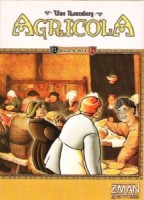 Agricola: Belgium Deck
Belgium's two largest regions are the Dutch-speaking region of Flanders in the north and the French-speaking southern region of Wallonia. This is a new set of cards for Uwe Rosenberg's boardgame hit.
The 60 Minor Improvements and 60 Occupations can be played as a stand-alone deck or shuffled into other decks.
Add a Review for "Agricola: Belgium Deck"