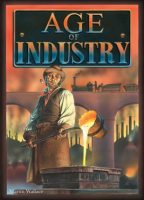 Age of Industry
Age of Industry
is a development of the highly rated Warfrog game
Brass
. This is a pure business game, where you must seek the most efficient way to make a profit. By investing in a variety of industries you will make money to invest in more advanced ones. You must judge the market conditions well to determine which industries will give the best return. Cotton and factories will certainly earn you money, but if you ignore coal mining and producing iron then you may be allowing another player to earn profits from your activities. You also have to consider whether to build ports to increase your profits from selling, and whether to invest in ships to open up new markets.
Age of Industry can be played by between three to five players, and should take no longer than two hours to complete. There is one double-sided map included which allows you to play either in Germany or New England, with each map presenting a different challenge. In the future Treefrog will be releasing more maps which will vary the game even further.
Add a Review for "Age of Industry"