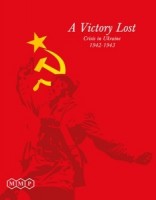 A Victory Lost
A harsh, cold wind blows across the steppes of Russia. With a flurry of thundering explosions, the Russian offensive Operation Saturn begins. Can the Russians encircle and trap the extended German armies?
Originally published in Japanese in Game Journal Magazine #4 as Struggle of Army Group Manstein, A Victory Lost starts with the Russian offensive Operation Saturn and continuing through van Manstein's famous "backhand blow". It revives the simplicity of classic games such as Russian Campaign and Panzergruppe Guderian, but with some very modern twists. Easy to learn and with a compact playing time, A Victory Lost nevertheless offers a historical treatment of this subject that has seldom been seen in larger and more complicated games.
Add a Review for "A Victory Lost"