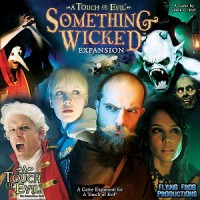 A Touch of Evil: Something Wicked

The Something Wicked Expansion is packed full of new material including 4 exciting new Heroes, a new full size game baord of the mysterious Echo Lake and its surrounding countryside to add to the main Shadowbrook board, over 130 new game cards including decks for three new Locations to explore, 4 fearsome new Villains to hunt, and much more! Something Wicked also includes expanded challenge for cooperative play and official solo-play rules. The stakes have never been higher and the darkness never deadlier... for Something Wicked this way comes.
Add a Review for "A Touch of Evil: Something Wicked"