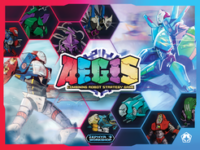 A.E.G.I.S.: Combining Robot Strategy Game
Players build teams of five powerful robots and battle against other players' teams of five in 2, 3 or 4-player games. Teams can have any mix of robot Classes on them, and a team of all one-Class 'bots is just as viable as a mixed team. It all depends on the strategy you want to use!
Get up-close and personal with Assault-types, or bunker down and wear out your opponents with Guards; Swoop in fast and light with Evasive 'bots, heal your team and fire lasers with Support-types, or lock on and cause chaos with Intel types! The robots on your team can combine together mid-game into bigger, more powerful forms! This has a number of strategic options depending on your team and the higher-level robot you're combining into. Do you stay separated and flank your opponent? Combine and go in for one big blow? The choice is yours!
Add a Review for "A.E.G.I.S.: Combining Robot Strategy Game"