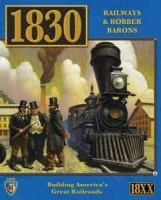 1830: Railways and Robber Barons
It is the dawn of the "Age of Railroading" in America. You're a wealthy investor and speculator betting that the new technology will revolutionize transport. Commerce will no longer depend on rutted roads and slow canals. Instead, it will ride the rails on swift, powerful "Iron Horses." 1830™ is an acclaimed railroad investment and building game covering the years 1830 to present. You and your fellow players become the stockholders of America's first railroad corporations. Since the largest shareholder becomes president, you compete for control of the strongest firms.
As president, generate revenue by building track and buying and operating trains-regardless of shareholders' needs. Meanwhile, you pay heed to the volatile stock market. You strive to invest in flourishing companies in order to earn healthy dividends. You try to buy stock in corporations that are rising in value, collect strong, and sell before the stock values drop.
1830™ contains rules and components for Francis Tresham's original classic design, a faster-playing basic game, and a host of exciting new variants from some of the world's best railroad game developers. The 2-sided map lets you develop the Eastern U.S. using different art. So, get ready to be a railroad baron. Start investing and building. Become America's first great rail tycoon!
Add a Review for "1830: Railways and Robber Barons"