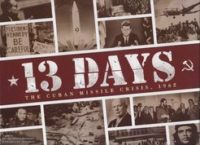 13 Days: The Cuban Missile Crisis
13 DAYS: THE CUBAN MISSILE CRISIS
For Thirteen Days in 1962 the world stood at the brink of atomic destruction as the United States and Soviet Union faced off over missiles which had been placed in Cuba. Would the USSR back down and remove the missiles? Would the U.S. push forward with a full invasion or send bombers towards targets within the Soviet Union? Who would blink first?
13 Days is a game recreating the tension of those two weeks as players play cards which shape political events around the world. If you love tense gamesmanship from classics like Twilight Struggle, our new strategy game will have your heart racing over 45 minutes of game play. With easy setup and a very manageable components list, 13 Days is a great introductory game for new players unfamiliar with card-driven games. For all the history buffs out there, 13 Days comes with a booklet covering the real historical events that took place in 1962, as well as a complete play-by-play game play-through with commentary. 13 Days: The Cuban Missile Crisis, 1962 was designed by Asger Granerud and Daniel Skjold Pedersenmade and possible by our Kickstarter backers.
Add a Review for "13 Days: The Cuban Missile Crisis"