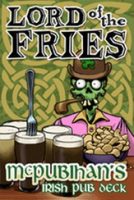 Lord of the Fries: McPubihan's
This stand-alone expansion for
Lord of the Fries
is set at McPubihan's Irish Pub Restaurant. The deck contains all new art and ingredients, with a new menu for 3 to 6 players, and instructions for combining the deck with the core game to create a deck that plays with up to eight players.
The mechanics are essentially the same as the base game with the addition of the "stew pot" a collection of face-up cards created by a discard of a single card by each player after the initial deal. Players may, on their turn, exchange one card with one from the stew pot prior to filling an order.
Add a Review for "Lord of the Fries: McPubihan's"